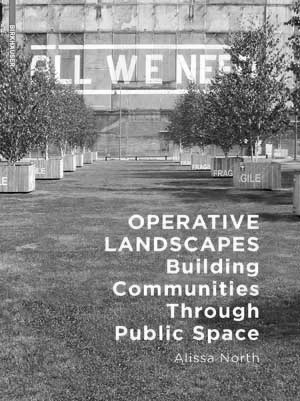 PUBLICATIONS & EXHIBITIONS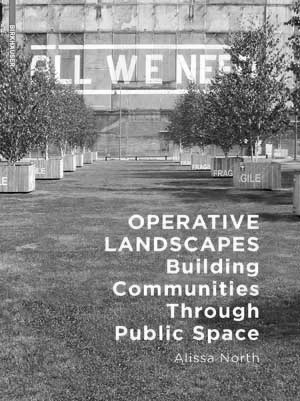 OPERATIVE LANDSCAPES
Featured: Nanhu Country Village, a project focused on public landscape infrastructure as a means to re-center professionals' approach to planning and development.
Year Published: 2010
Role: Lead Graphic content, Lead written content
Author: Alissa North
Source: https://books.google.com/books?id=eWzUAAAAQBAJ&pg=PA156&lpg=PA156&dq=alissa+north+operative+landscapes,+nanhu&source=bl&ots=osHezo6Pv6&sig=Vwmd6OGAIOpzzpuGAy2CRYae45A&hl=en&sa=X&ei=xArPVIX4GtexogSaq4BA&ved=0CCAQ6AEwAA#v=onepage&q=alissa%20north%20operative%20landscapes%2C%20nanhu&f=false
MATERIAL REUSE
Featured: A presentation at the Herbst Theatre in San Francisco and at the annual Building Material Reuse Association in Seattle, ongoing online resource development for SWA Group on the reuse of materials within the discipline of landscape architecture from concept to construction.
Year Published: 2013
Role: Co-writer with Michael Hee
Author: Alec Hawley
Source: http://bmra.org/material-reuse-a-living-digital-reference-guide-landscape-architecture/?doing_wp_cron=1422855009.8985400199890136718750
CARROT CITY
Featured: An ongoing online and touring lecture series based from Ryerson University and overseen by Joe Lobko of DTAH Architects.
Year Published: 2009
Role: Lead Illustrator
Author: Joe Lobko
Source: http://www.ryerson.ca/carrotcity/board_pages/community/artscape_wychwood_barns.html
CROWDSOURCING
Featured: An monthly online feature regarding the positive and possibly negative effects of crowdsourcing on landscape architecture.
Year Published: 2014
Role: Lead Creator
Author: Alec Hawley
Source: http://www.ideas.swagroup.com/author/alec-hawley/
PARKING DAY
Featured: An article in the well known journal Inhabitat regarding Parking Day 2012 and the Bocce ball for all installation.
Year Published: 2012
Role: Lead Creator
Author: Mike Chino
Source: http://inhabitat.com/parking-day-2012-pop-up-parks-spring-up-in-parking-spots-across-the-states/parking-day-swa-bentley-reserve-bocce-ball-park/
Landsdowne Open Space
Featured: A presentation at the University of Toronto to faculty, staff and community members regarding research from community meetings surrounding the future open space development of a former TTC streetcar repair space.
Year Published: 2008
Role: Lead Community Engagement
Author: Alec Hawley
Source: http://torontovacantlots.blogspot.com/
CARPET PARADISE
Featured: An exhibition based on Las Vegas at the Eric Arthur Gallery in Toronto, Ontario.
Year Published: 2007
Role: Contributor
Author: Alec Hawley
Source: na